The collective ooo was founded in spring of 2020 as a dedicated space for sound art, contemporary music and intermedia art. The founding members are Fero Király and Eva Vozárová. The duo founded JAMA intermedia art event in 2019 as part of their collaboration with ISCM – Slovak Section and Cluster ensemble. JAMA was also the starting point of the need for a new initiative dedicated specifically to intermedia and interdisciplinary projects and to collaborations with other creators in this field.
The name ooo was originally intended to be read as "ó" (Slovak long "oh"), but we enjoy any other possible interpretation that may come up. The name arose from our preoccupation with sound, but, equally, it is also an interjection expressing the ever-important sense of wonder. At the same time, ooo is a triple zero, an absence, a visual expression of a rounded or negative space – that is, a pit (in Slovak: jama) from which our activities emerged.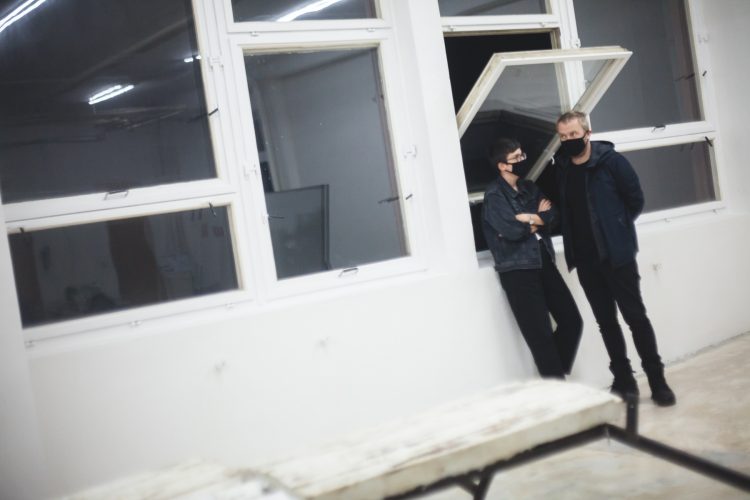 Fero Király is a musician. He studied piano, but focuses on interdisciplinary projects with an interest in digital technologies and their intersections with music. His projects overlap with performance, sound art, installations and interpretation of contemporary music. He collaborates with musicians, artists, performers, theater artists, visual artists (e.g. Bohuš and Monika Kubinskí, Petra Fornayová, Zuzana Žabková, Jakub Pišek, Lina Lapayete, Maja Osojnik, Hillary Jeffrey, Hauke Harder, Daniel Matej, Juraj Bartusz, Peter Machajdík, Eva Šušková a.i.). He is also involved in music education projects. He is a co-founder and artistic director of Cluster ensemble, with whom he has created projects for the Czech National Theater (2018, 2019) or the album Cluster ensemble plays Philip Glass published by Philip Glass's record label Orange Mountain Music (2016).
Eva Vozárová studied journalism. She worked in the media and later in an anti-corruption NGO. Since 2017, she has been working freelance as a cultural manager. She has been collaborating with several independent events and projects, including the international festival of contemporary dance and physical theater Nu Dance Fest, Fest Anča International Animation Festival, Vlna Magazine, literary festival Novotvar and Cluster ensemble.
Contact:
Eva Vozárová: eva@zdruzenie.ooo
Fero Király: fero.kiraly@gmail.com
GDPR:
Privacy policy
Newsletter subscription consent
ooo elsewhere: